SOLAR CONSULTANT & SOLAR INSTALLATION SERVICE
INDUSTRIAL | COMMERCIAL | RESIDENTIAL
Best solar company in Ahmedabad, top solar company in Ahmedabad, best solar epc company in Ahmedabad, best solar installer in Ahmedabad, best solar rooftop company in Ahmedabad, best solar company in Gujarat, Best solar company in Ahmedabad, top solar company in Gujarat, best solar epc company in Gujarat, best solar installer in Gujarat, best solar rooftop company in Gujarat
Best solar company in Ahmedabad, top solar company in Ahmedabad, best solar epc company in Ahmedabad, best solar installer in Ahmedabad, best solar rooftop company in Ahmedabad, best solar company in Gujarat, Best solar company in Ahmedabad, top solar company in Gujarat, best solar epc company in Gujarat, best solar installer in Gujarat, best solar rooftop company in Gujarat
Best solar company in Ahmedabad, top solar company in Ahmedabad, best solar epc company in Ahmedabad, best solar installer in Ahmedabad, best solar rooftop company in Ahmedabad, best solar company in Gujarat, Best solar company in Ahmedabad, top solar company in Gujarat, best solar epc company in Gujarat, best solar installer in Gujarat, best solar rooftop company in Gujarat
best solar company in ahmedabad
A TRUSTED NAME IN SOLAR PV PROFESSIONALS AND CONSULTANCY.
Solar power plant for Industries/Factories, Commercial building, Corporate buildings /offices, School
/Educational Institutes, Residential/ bungalows/villas, Apartment and flats, Hospital, NGO's, solar Utility farm.
LATEST TECHNOLOGY.
Solar PV Panel with Latest Technology commercially available. Having Strategic Tie-up with Best Solar panel Companies around world we are able to provide you the best panel with best rates.
330 to 670 Wp Solar PV Modules Available
Some Of Our Installation Work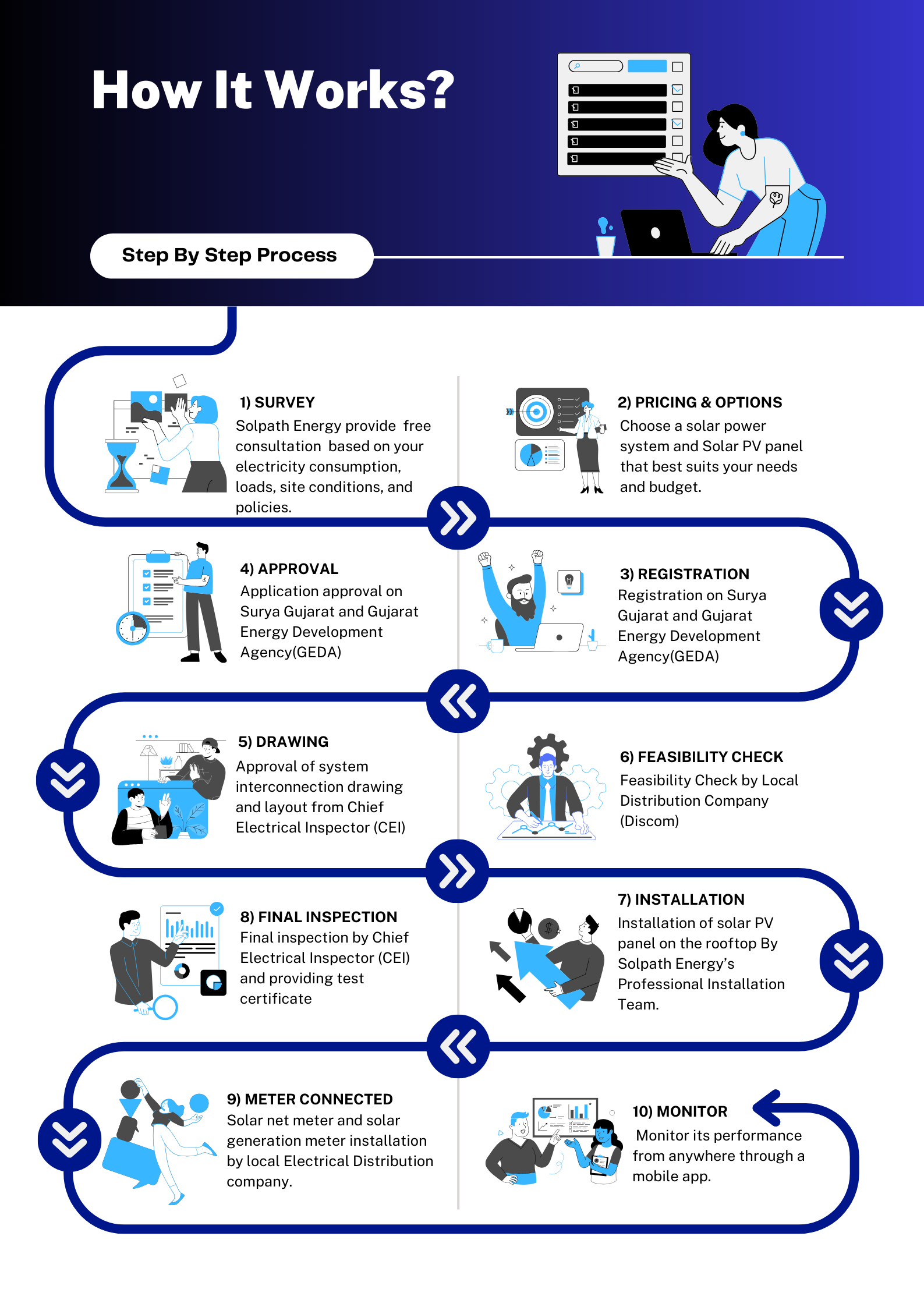 Why Solpath Energy?
Solpath Energy is one of the best solar company in Ahmedabad . The aim in setting up the company was to focus on Solar Projects and to move towards forward integration and to entering into the rapidly growing business vertical of on-grid and off-grid Solar Power Solutions.

We integrate cutting edge solar technology and equipment in our projects to increase generation and to ensure highest level of client satisfaction. We provide designing and consultancy, Engineering, Procurement and Construction (EPC) contracts, Turnkey projects, Total project management, Installation and commissioning contracts,third party inspection, Operation and Maintenance contracts.

Customers today realize the importance of
the quality of work in every process related to the solar plant in order to get the best outputs in the long run. This is where we come in, after all, both the aesthetics and quality matter.
Best Solar Consultant In Ahmedabad, Gujarat.
SOLAR CONSULTANCY
Solpath Energy is one of the best Solar Consultant in Ahmedabad. Solpath looks into each detail with respect to owner's interest and ensure all the contracted terms are being followed, checks project feasibility and prepares DPR, policy checks, RFP for contractors and analyzing the bids to finalize one, review of designs to ensure it is optimized for plant performance and everything is in place as per the industry standards before commissioning is done by constantly monitoring site work. Solpath Energy has been Solar consultant to numerous first time and seasoned project developers over the different phases of building their solar power plant.
Best Solar EPC company In Ahmedabad, Gujarat.
Solar EPC Contractor
Engineering : Solpath Energy offer a broad range of services for all planning phases in order to deliver the optimum PV power plant layout. Planning work for a PV power plant is usually split up in different phases: preliminary layout, modification of layout, detailed layout and adaption during construction. Since our partners provide different mounting solutions, a part of the technical design is the selection of the optimal framework with regards to electricity generation and land utilization. Subject to circumstances, cabling can represent a significant portion of the project cost and we are able to minimize this with appropriate design and positioning of the mounting racks, inverters, switch gear in relation to each other and the grid connection point.
Our Other Services
We Are More Than Just Some Solar Company
Best solar company in Ahmedabad, top solar company in Ahmedabad, best solar epc company in Ahmedabad, best solar installer in Ahmedabad, best solar rooftop company in Ahmedabad, best solar company in Gujarat, Best solar company in Ahmedabad, top solar company in Gujarat, best solRooftop Solar System Solar System For Home Solar System For House Rooftop Industrial Solar Rooftop Solar Subsidy Solar Panels For Roof Solar Panel System Solar Power System Off Grid Solar System Solar Power Generator On Grid Solar System Rooftop Solar With Battery Grid Connected PV System Solar Light System For Home Hybrid Solar System Industrial Solar Electric System PV Off Grid Solar Inverter 1kw Solar System Solar Photovoltaic Cell For Panels Solar Panel Cleaning System Solar Panel Setup Diy Solar Power Pack Off Grid Solar Inverter System With Panel Ground Mount Solar Power Projectar epc company in Gujarat, best solar installer in Gujarat, best solar rooftop company in Gujarat Solar Panel Roof Top Solar Solar System Solar Packages